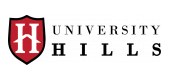 FAQ | University Hills
Are you pet friendly?
​Yes, University Hills is pet friendly! There is a one-time pet fee of $300 and monthly pet rent of $25.
How can I pay my rent?
Rent is due on the first of every month and can be paid in the office with a check or money order. If you prefer to pay with a credit or debit card, you can set up one-time or recurring payments through
Resident Portal.
Do I need a lease guarantor?
​We screen all of our applicants and require a guarantor or additional security deposit on all leases. The security deposit varies by floor plan. You can ask a leasing specialist by calling our office today!
What if I do not have roommates in mind?
That's no problem at all! We can pair you up with people who have similar lifestyles, interests, etc. Just fill out the form during the application process and leave the rest to us! Click here for a sample roommate matching form.
What is double occupancy?
​For those interested in enjoying all the benefits of living at University Hills at a reduced rate, we offer double occupancy options. If you would like to share a bedroom with your roommate (double up), you can receive a lower rate.
If interested in double occupancy leasing options, please contact our office.
What is an individual lease?
​When you sign an individual lease, you are only responsible for your rent; in other words, you have no liability for the rent of your roommates. If your roommate transfers or graduates, you have nothing to worry about!
Is Renter's Insurance Required?
​Yes, our community requires each resident to carry an active tenant liability policy for damage to the landlord's property during the term of their lease. We require a minimum of $100,000 in general liability coverage. We also recommend residents purchase content coverage (also known as personal property insurance) to cover your personal belongings.
Important Documents & Disclosures
Past Resident Portal
If you are a past resident, please use our Prospect Portal to be redirected to our payment portal for past residents.
Are utilities included?
​Yes. We include the following utilities: water, sewer, pest control, and trash collection. The resident is responsible for electric and gas.
Don't forget we also include high-speed internet!